The notion of the common good has its roots in the era of ancient Greek city-states, and has pointed toward the possibility that certain goods, such as security and justice, can be achieved only through citizenship, collective action, and active participation in the public sphere of social life. Indeed, the Greek philosopher Aristotle would argue that only matters of the common good are right; matters for the ruler's good are wrong. For contemporary politics the importance of the idea of the common good remains in that it identifies the possibility that politics can be about more than building an institutional framework for the narrow pursuit of individual self-interest in the essentially private domain of liberalized markets. In a globalised world, where inequalities between continents, regions and even within cities are all too evident, the need for a consensus on the common good and the active participation of everyone has become a crucial instrument in building peace. Shared values – which are perceived as the common good – provide the basis for negotiations and compromises.
Fashion Industry for its impact in environmental, social and economic terms has an important role to play in the promotion of the common good in the world. That is the challenge to face.
CIRCULAR ECONOMY, BUSINESS AND SOCIAL INNOVATION
• How are sharing economy models (such as swapping; sharing; renting; borrowing; libraries) experienced in the marketplace? In commercial markets, social innovation, and enterprise and for consumers?
• What aspects of redistribution models (such as consumer-to-consumer networks; business-to-business; business-to-consumer and consumer-to-business) could underpin the circular economy and how can they be conceptualised?
• How can the circular economy disrupt dominant social paradigms of commerciality?
• How might circular activities that illustrate alternative material sources and recycling initiatives, that can nudge consumer attitudes and behaviours, such as social marketing and repositioning consumer value be designed?
• How can upcycling models, such as workshops for repurposing and styling to develop consumer skills and practices, support consumers to adopt the circular economy?
• How can textile innovation and sustainable processes address the cost-of-living crisis?
• What is the role of social media platforms in positioning consumer attitudes and behaviours as well as co-creating sustainable discourse?
• How may the role of textile skills extend garment lifecycles, encourage care and repair – from both producer and consumer perspectives – and encourage consumers to adopt circular fashion practice?
FASHION LAW AND SUSTAINABILITY
• Blockchain is a disruptive technology offering a new wide range of opportunities for companies. What is the impact of blockchain for fashion houses from the protection of IP rights to the effective control of distribution networks?
• Why is fashion so interested in the Metaverse? What are the legal implications arising out of this virtual world?
• Is the Metaverse the logical destination for NFTs? Are there any regulations brands should be especially aware of?
• E-commerce, the rise of marketplaces and other electronic platforms combined with low transportation costs are some of the main challenges to selective distribution agreements worldwide. The implementation of proper legal instruments (including contractual undertakings and the design of efficient contractual enforcement mechanisms) are key to ensuring the integrity of the selective distribution network. How can this be done?
• Who is the owner of a design created by an autonomous AI?
• Can a fashion house purchase data to produce and offer a 100% customized outfit to a consumer?
• Criminal action is having an increasing impact on the field of fashion law in several areas including, but not limited to, counterfeiting. What are the main connections between criminal law and the world of fashion?
• The European Court of Justice has shaped, through different rulings, the limits of how EU antitrust regulations impact on selective distribution agreements; an essential tool for the commercialization of fashion items. We welcome the analysis of case studies.
• Labour law is an important part of the fashion business. How do companies ensure compliance with the principles of ILO, or push forward conditions of work that will support not only the individual worker, but also their right to have a family whose children have access to education?
• How do companies comply with equal opportunities between men and women in Islamic countries? How are these issues taken into consideration when the fashion companies produce, and sell on an international basis?
• How should Fashion companies address the gender gap in countries where, by law, access to education and work is denied to women? Or where discrimination exists, under different forms, and with different grounds?
• How can IP be protected by Fashion companies, when they expand or are present internationally?
• When a contract is drawn up by computers based on machine learning and AI what risks are involved? Who should be held accountable for possible losses?
• How does the adoption of cryptocurrencies affect contracts in the Fashion Business?
SUSTAINABLE FINANCE: FUNDING THE TRANSITION TOWARDS AN ECONOMY FOR THE COMMON GOOD
• How is the capital market accommodating the financing needs of companies that are investing in sustainability? In the country? In countries other than the home country?
• How does the banking system recognise and offer specific products for companies, or organisations that include environmental sustainability goals in their strategy? And social goals?
• What sources of information are used by investment funds in to order to invest in more sustainable companies?
• How is mutual understanding promoted between investors and fashion companies looking for funding?
• What are the reasons that might lead investors to opt for businesses where sustainability is an integral component?
• What kind of information is present in the Annual Reports, or other public documents, contributing to the transparency of information, which is the basis of confidence in the capital market?
• What type of remuneration are investors looking for? Is it possible to obtain it in businesses that are committed to sustainability?
• How are profitable investment opportunities offered by new companies or new businesses based on sustainability identified?
• How are investments in renewable energy, decarbonisation or other areas such as wastewater treatment regulated to compensate national or international investors?
• Is there currently an awareness of venture capital companies, or "Business Angels" available to support more sustainable Fashion? If not, what are the reasons behind this?
• How can the financial system support the digital transition of companies? How to overcome near-term pressures and uncover the true potential for business, centred around long-term, profitable, and sustainable decisions?
• What kind of company/organisation data is needed to create confidence in and with internal and external collaborators, so that they are taken fully on board acknowledging the necessity to deliver change in environmental and social terms?
• How does sustainability data contribute to strategic decisions?
• How can companies embed sustainability across the different parts of their business in a way that unleashes action, and in turn new growth opportunities?
• Reaching economies of scale through ambitious collaborations is one of the most important things companies can currently do to achieve decarbonisation goals and remain profitable. How are businesses identifying cross-industry collaborations that can accelerate impact and scalability, whist reducing risks and investments?
EDUCATION FOR FASHION SUSTAINABILITY: FROM ECO DESIGN TO POST-CONSUMER BEHAVIOURS
• How can educators equip a new generation of business leaders to prioritise common good in business and markets?
• How can producers, professionals be educated about the implications of their decisions and practice? In environmental and social terms? How is this embedded in the curricula?
• How is sustainability terminology interpreted and understood at Education Institutions?
• How do employers address the knowledge of Sustainability in their contact with Education Institutions and the Labour Market when recruiting?
• What are the new professions and qualifications required by the circular economy and a more sustainable Fashion?
• How might post-graduate courses contribute to the present lack of knowledge of processes of change, and the management of the innovation process within institutions and organisations?
• What are the current trends in Fashion Education, bearing in mind the challenges ahead?
• Does the Education system in the country, or region, consider the 2030 ODGs? If so, does it have a positive impact in the attitudes of consumers? If this change does not occur, what are the underlying causes?
• Are there any differences between countries, or regions within a specific country, in terms of education for tackling the 2030 SDGs?
Elaine Ritch, Reader in Fashion, Marketing and Sustainability/Research Lead for "Consumers, Lifestyles and Experiences" research Group, School for Business and Society, Glasgow Caledonian University, Scotland
Linda Shearer, Head of Department Fashion, Marketing, Tourism and Events/Senior Fellow of the Higher Education Academy, Glasgow Caledonian University, Scotland
Sonika Khar, Associate Professor Design, Craft Studies, Innovation and Research Methods – Pearl Academy (Delhi, Jaipur, Mumbai, Bengaluru), India
Silvia Pérez-Bou, Academic Director – Executive Master on Fashion Business, ISEM Fashion Business School. Senior Researcher on Sustainability at the University of Navarra, Spain
Isabel Cantista – Dean of the School of Economics and Business Studies University Lusíada (campus Porto and Famalicão), Senior Researcher at COMEGI (Centre of Research on Organisations, Markets and Industrial Engineering)/University Lusíada, Portugal
Ana Cristina Broega, Universidade do Minho, Portugal
Anthony Kent, Nottingham Trent University, UK
Bethan Alexander, London College of Fashion – UAL, UK
Chioma Nwafor, Glasgow Caledonian University, UK
Claudia Henninger, University of Manchester, UK
Christiane Luible-Baer, Kunst University – Linz, Austria
Elaine Ritch, Glasgow Caledonian University, Scotland
Heidi Harkonnen, University of Turku, Finland
Gianpaolo Vignali, The University of Manchester, UK
Isabel Cantista, University Lusíada, Portugal
Joel Vaz, University Lusíada, Portugal
Kirsi Niinimaki, Aalto University, Finland
Linda Shearer, Glasgow Caledonian University, UK
Lorenzo Cantoni, Universitá della Svizzera Italiana, Switzerland
Marisa Araújo, University Lusíada, Portugal
Natascha Radclyffe-Thomas, Glasgow Caledonian University, UK
Paula Rodrigues, University Lusíada, Portugal
Petra Leutner, AMD Akademie Mode Design, Germany
Rebecca Earley, London College of Fashion, UAL, London, UK
Rebecca Ravalli, European Intitute Florence, Italy
Ritu Malhotra, National Institute of Fashion Technology, New Delhi, India
Shelly Sambat Kondor, Bezalel Academy of Arts and Design, Israel
Sianne Gordon-Wilson, Queen Mary University – UK, UK
Silvia Pérez-Bou, ISEM Fashion Business School /Univ Navarra, Spain
Sonika Khar, Pearl Academy, India
Koshalpreet Kaur Gum, Sushant University, India
GLOBAL FASHION CONFERENCE
BEST RESEARCH AWARDS 2023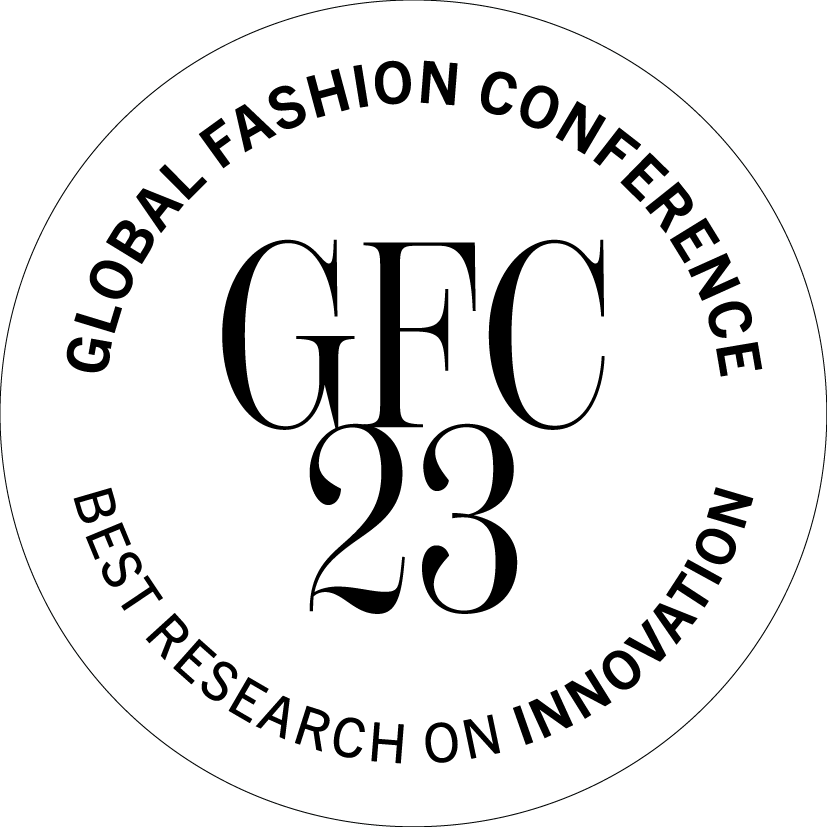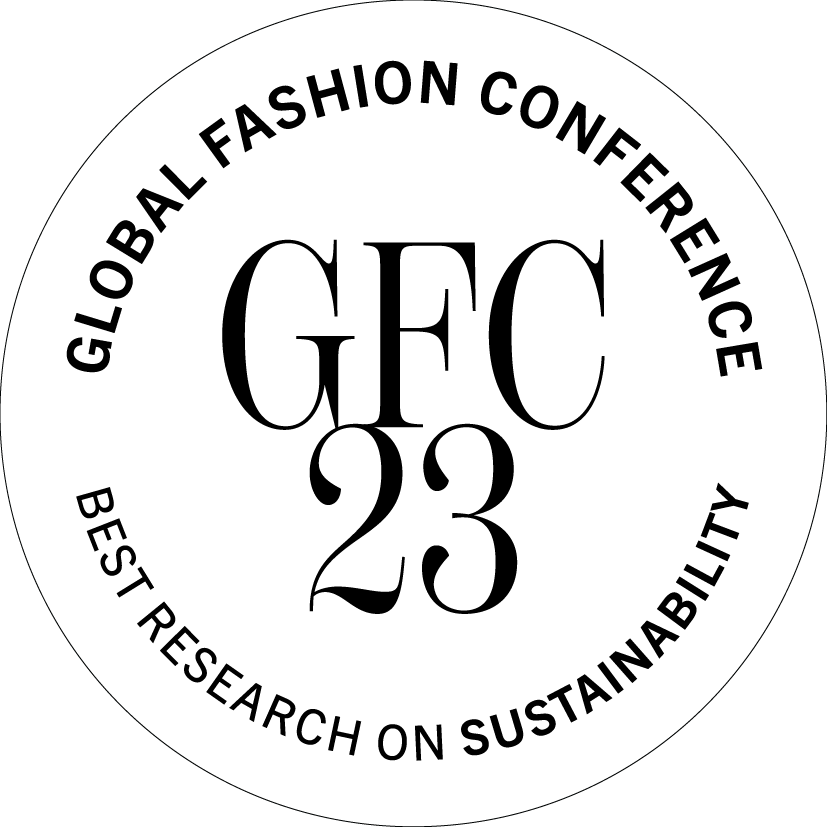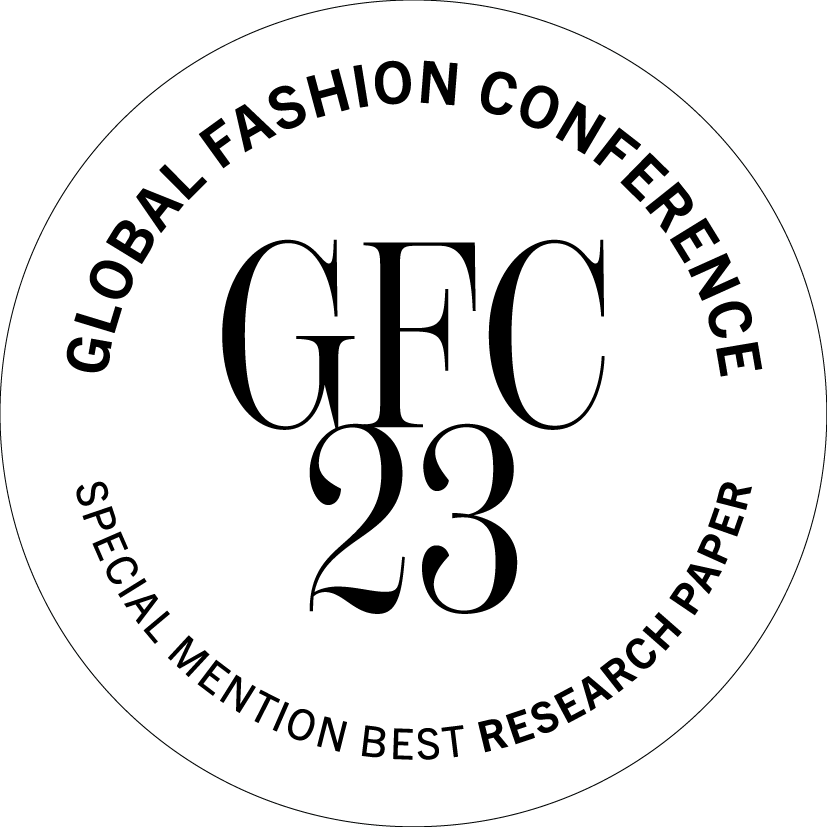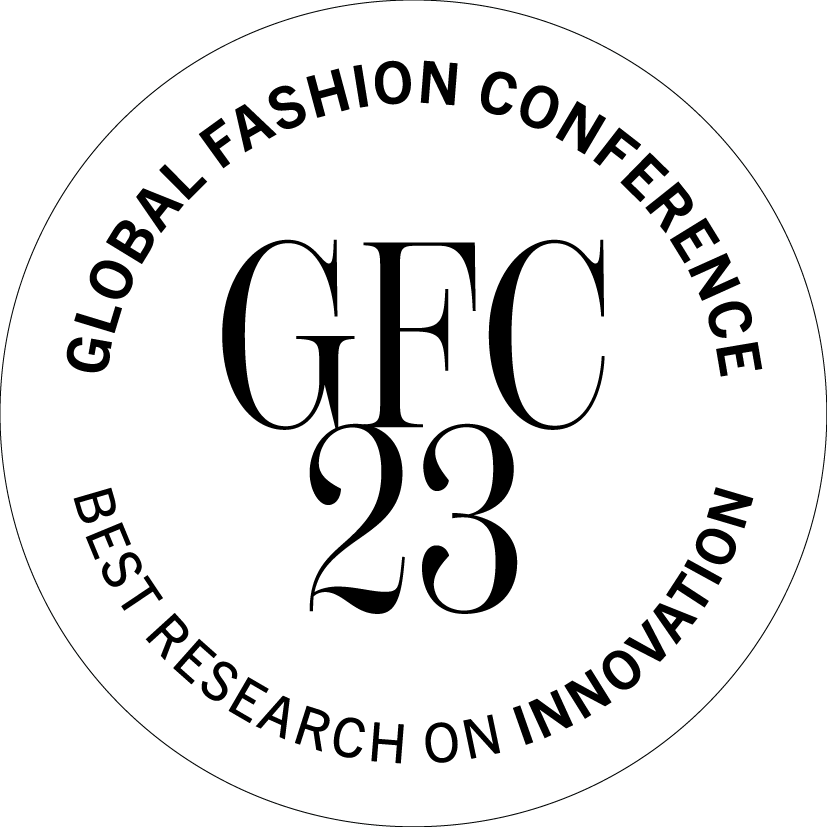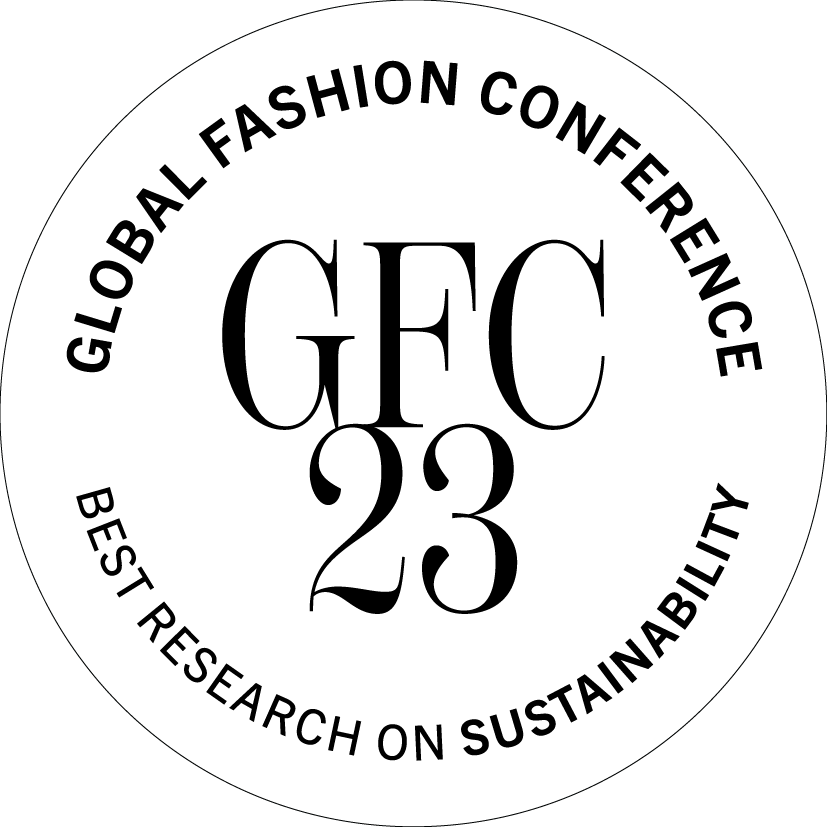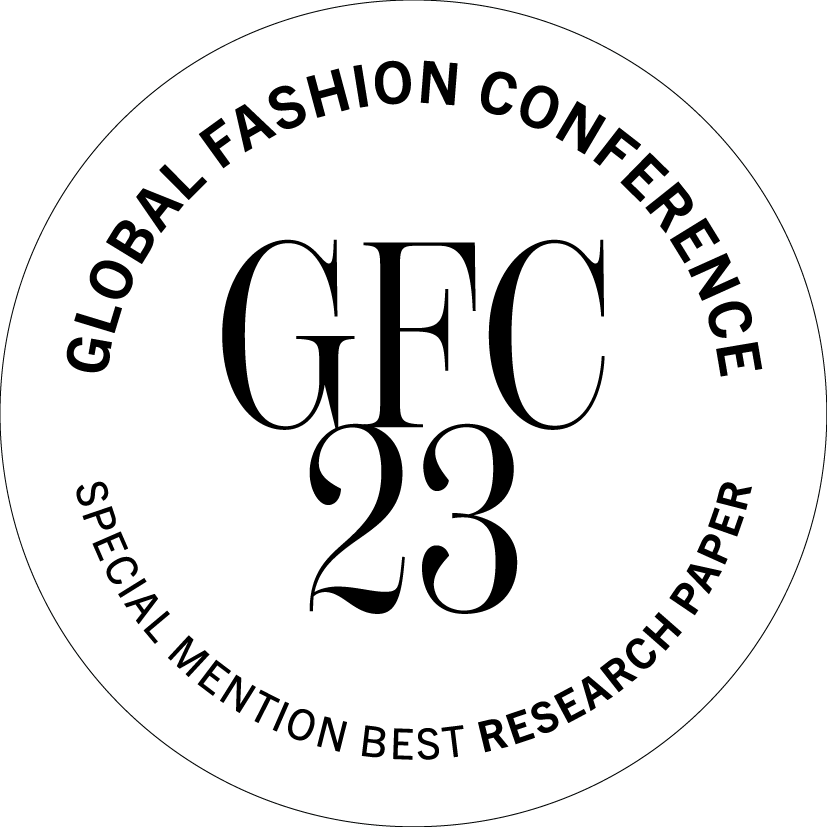 The Global Fashion Conference has decided to award two prizes as from the 2020 edition. One of these is intended to acknowledge and reward the best research paper or project in the area of sustainable fashion, while the other prize seeks to acknowledge and reward the best research paper or project in the area of innovation in luxury and fashion. A special mention to a research made in one of these topics or any other topic may also be granted by the jury.
In each edition, an independent jury comprised of representatives from Academia, Industry, NGDOs and Fashion Communication will decide on the assignment of these prizes.
Daria Andronescu is a professional stylist and fashion educator currently living in Portugal. Daria's passion is teaching women how to dress like conscious adults. Her Wonder Wardrobe online course has been internationally recognized by the BBC, Good on You, Cosmopolitan and Vogue amongst many others. The course shows women how to create a cohesive capsule wardrobe full of exciting outfits that are worn for much longer than usual.
Sustainable fashion can be a force for good when it reaches the right people with the right message. Everything Daria does supports a sustainable approach to the global climate we are currently facing. Through the help of her students, Wonder Wardrobe's donations have planted over 25.000 trees and counting.
Daria's sustainable fashion advice, wardrobe principles and styling methods are free for everyone to learn via her Youtube and Instagram channels.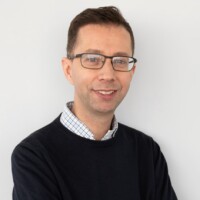 David Zajtmann is a full time professor at IFM – Institut Français de la Mode – Paris. In academic terms David is responsible for the definition of contents related to international markets and strategies. His areas of research include strategies of couture and ready-to-wear companies, as well as creative cities in fashion industries. David Zajtmann is also the Chairman of the IFFTI (International Foundation of Fashion Technology Institutes) Research Sub-Committee.
David holds a PhD in Management Science from Université Paris 1 Sorbonne, a Research Master (DEA) in Industrial Economics from Université Paris Dauphine and is a graduate of Sciences Po Paris and IFM.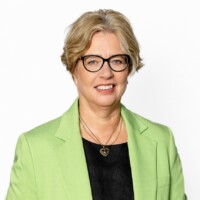 Liisa Haavanlammi is the Chief Commercial Officer at Infinited Fiber Company. The company has its own technology to produce new, cotton-like fibers from 100% textile waste. She has a background in research and development and technology sales, including bringing new technologies to market starting from early stage, laboratory scale initiatives, up to fully functioning commercial plants.
In her current role she is responsible for upscaling the Infinited Fiber business to meet the strongly increasing demand of sustainable, recycled fibers by establishing grounds for new manufacturing facilities globally, either by Infinited Fiber itself or together with international partners from the textile value chain.
The prize will consist of the attribution of an opportunity to publish in a journal with a high impact factor, or a book sponsored by the Global Fashion Conference with the authors maintaining all rights over the text. The prizes will be awarded at a public ceremony disseminated in the international press. Additional benefits for Authors may be added.
Submission of Structured Abstracts deadline: 31st of May
EXTENSION UNTIL 8th OF JUNE
Feedback from Reviewers deadline: 15th of July
SECOND CALL JUST FULL PAPERS: 15th of August
Full papers due: 1st October 2023
Publication of Proceedings (ISBN and DOI): 15th December 2023
The Proceedings of the Global Fashion Conference – Full Papers Only – will be published by Springer, after due legal permission from Authors is granted.
Presentation of edited videos will also be possible in the year following the present edition on the YouTube Channel: GFC Video Library. This channel is for information and educational purposes only.